Posts for tag: toothache
By Dyer Family Dentistry
May 18, 2019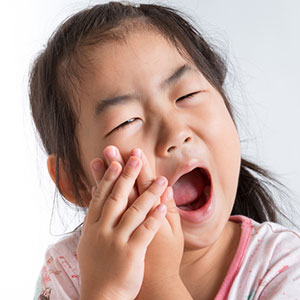 "Mom, my tooth hurts" isn't something you look forward to hearing your child say. But tooth pain is as common as other childhood ailments, so you may have to face it. Here are a few simple steps to make it easier.
First, ask your child where in the mouth it hurts and, if they can, tell you how long it's been hurting. Children's memories aren't always accurate, but you can still get a general idea that you can communicate with your dentist if you take them in.
Next, look in their mouth for anything out of the ordinary: gum swelling or bleeding, or dark spots on the teeth indicative of tooth decay. Look also for hard food particles like popcorn kernels caught between the teeth, which could be causing the pain. Gently floss between the teeth (even if you can't see anything) to remove any caught particles.
You'll also want to help ease their pain. You can apply an ice pack against the painful side of the jaw. Don't place ice directly on the skin, but use a container or cloth alternately against the jaw for a minute or so, and then away for a minute. You can also give them a dose of mild pain reliever like ibuprofen or acetaminophen appropriate for their age and weight—but never rub aspirin or other pain relievers on the gums, which tend to be acidic and can burn the skin.
Finally, you'll need to decide if you need to see a dentist and how soon. It might not be necessary with situations like the trapped food particles, but most of the time it's wise to have your dentist perform an examination for an accurate diagnosis and appropriate treatment. As to how soon, try to see the dentist immediately if the pain has continued from one day to the next or has kept your child up overnight. Otherwise, book an appointment for as soon as the dentist advises, even if the pain subsides.
A toothache at any age is never pleasant, but especially for children. Knowing these steps will help ease their discomfort and get them the relief and treatment they need.
If you would like more information on dental care for children, please contact us or schedule an appointment for a consultation. You can also learn more about this topic by reading the Dear Doctor magazine article "A Child's Toothache: Have a Dental Exam to Figure out the Real Cause."
By Dyer Family Dentistry
April 23, 2019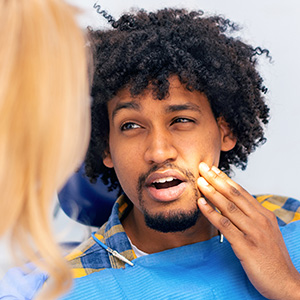 A toothache means a tooth has a problem, right? Most of the time, yes: the pain comes from a decayed or fractured tooth, or possibly a gum infection causing tooth sensitivity.
Sometimes, though, the pain doesn't originate with your teeth and gums. They're fine and healthy—it's something outside of your tooth causing the pain. We call this referred pain—one part of your body is sending or referring pain to another part, in this instance around your mouth.
There are various conditions that can create referred pain in the mouth, and various ways to treat them. That's why you should first find out the cause, which will indicate what treatment course to take.
Here are a few common non-dental causes for tooth pain.
Trigeminal Neuralgia. The trigeminal nerves situated on either side of the face have three large branches that extend throughout the face; the branch to the jaw allows you to feel sensation as you chew. When one of the nerve branches becomes inflamed, usually from a blood vessel or muscle spasm pressing on it, it can refer the pain to the jaw and seem like a toothache.
Temporomandibular Joint Disorder (TMD). These two joints that connect the lower jaw to the skull can sometimes become dysfunctional for a variety of reasons. This can set up a cycle of spasms and pain that can radiate throughout the jaw and its associated muscles. The pain can mimic a toothache, when it actually originates in the jaw joints.
Teeth Grinding. This is an unconscious habit, often occurring at night, in which people clench or grind their teeth together. Although quite common in children who tend to grow out of it, teeth grinding can continue into adulthood. The abnormally high biting forces from this habit can cause chipped, broken or loosened teeth. But it can also cause jaw pain, headaches and tenderness in the mouth that might feel like a toothache.
These and other conditions unrelated to dental disease can seem like a tooth problem, when they're actually something else. By understanding exactly why you're feeling pain, we can then focus on the true problem to bring relief to your life.
If you would like more information on oral pain issues, please contact us or schedule an appointment for a consultation.
By Dyer Family Dentistry
September 17, 2013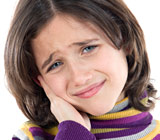 It can be daunting for parents to know just what to do when their child complains of an ache or pain. What if your child tells you their tooth hurts — is that cause for alarm? That's actually not so easy to determine, but there are some things you should do when your child has a toothache.
First, try to determine from your child exactly where the pain is coming from and how long it's been hurting. Look for an apparent cause for the pain: the most common is tooth decay, considered a type of infection caused by bacteria, and normally indicated by brown spots or tiny holes (cavities) on the biting surfaces or between teeth. Look for swelling or tenderness in the gum tissues, a sign of a possible abscess. Debris caught between teeth may also cause pain.
The pain might stem from an injury. Though the lips and outer tissues may appear fine, a blow to the face or other traumatic incident may have damaged the teeth. Without treatment, pulp tissue within a traumatized tooth may die and lead to an infection and potential tooth loss.
If you see any of these signs or symptoms, or the pain keeps your child up at night or continues into the next day, you should contact our office as soon as possible so that we can do a full evaluation of the tooth. In the meantime, there are some things you can do to help lessen the pain. First, clean the teeth to remove any debris. Administer ibuprofen or acetaminophen (in the proper dosage for a child) for pain relief. An ice pack against the jaw may also help, but alternate on and off in five-minute intervals to prevent burning the skin with the ice.
If these steps stop the pain within an hour, you can wait until the next day to make an appointment. If not, this may be indicative of an abscess forming and you should not delay contacting our office. The quicker we can properly diagnose and begin treatment, the less chance your child will suffer from any long-term damage to their teeth.
If you would like more information on caring for a child's toothache, please contact us or schedule an appointment for a consultation. You can also learn more about this topic by reading the Dear Doctor magazine article "A Child's Toothache."