Posts for tag: missing teeth
By Dyer Family Dentistry
August 30, 2016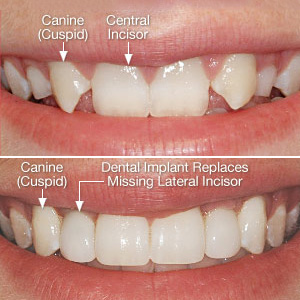 When you look at the top row of a normal smile, you'll see symmetrical pairs: the central incisors in the middle, flanked by the lateral incisors and the canine (or eye) teeth on the outside of them.
Sometimes, though, teeth may not form as they should: in fact, it's one of the more common congenital defects with one in five people having missing or deformed teeth, often the upper lateral incisors. In the latter case, it's not uncommon for the eye teeth to drift into the missing lateral incisors' spaces next to the central incisors. This creates a smile even a layperson can tell is off.
There is a way to treat this with orthodontics and cosmetic dentistry that will transform that person's smile while restoring better mouth function too. It's often a long process, however, that's best begun early and must be precisely timed with dental development.
Using braces, we move the drifted teeth back to their proper positions, which will make room for a future dental restoration. It's usually best to begin this treatment during late childhood or early adolescence. The next step is to fill the newly-created space with prosthetic (false) teeth.
Dental implants are an ideal choice since they're durable and life-like, and won't require permanent alteration of adjacent teeth. They do, however, require a certain amount of bone volume at the site to support them; if the volume is insufficient we may have to place a bone graft to stimulate new growth.
It's also best not to install implants until the jaw has finished development, usually in the late teens or early adulthood. In the interim between tooth repositioning and implants we can customize a retainer or other removable appliance with a false tooth to occupy the space. This not only enhances the smile, it also prevents the repositioned teeth from drifting back.
These steps toward achieving a new smile take time and sometimes a team of specialists. But all the effort will be rewarded, as a person born without teeth can have a new smile and improved oral health.
If you would like more information on treating dental development deficiencies, please contact us or schedule an appointment for a consultation. You can also learn more about this topic by reading the Dear Doctor magazine article "When Permanent Teeth Don't Grow."
By Dyer Family Dentistry
November 06, 2013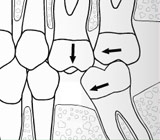 For most people, replacing missing front teeth takes a higher priority over missing back teeth. The reason is obvious: others can see those missing in front, but not necessarily those in the back.
From a functional view, however, you should still consider replacing missing back teeth. Not only will it improve your chewing ability, it may also prevent a chain reaction of negative effects to your remaining teeth.
Teeth are held in place in the jawbone by a membrane called the periodontal ligament. The ligament is a living tissue that allows teeth to move to keep contact with adjacent and opposing teeth as natural wear occurs. When a space is created by a missing tooth, this natural movement accelerates and the teeth may shift beyond normal ranges.
As a result you can encounter excessive mobility of teeth from bite irregularities, uneven tooth wear, bone loss, potential painful problems with the temporo-mandibular joints (connecting the lower jaw to the skull), and a loss in facial height.
There are three basic options for this kind of tooth replacement. The best option is dental implants: these free-standing replacements don't normally affect surrounding teeth, they're easier to clean, and they help support the bite. On the downside, there must be enough remaining bone to support the implant.
The next best option is a fixed bridge. This option only works, however, if there are teeth on either side of the missing tooth space capable of supporting the bridge, and they must be reduced in size by removing the enamel with the dental drill. They also have a tendency to retain plaque, the main cause of gum disease.
That leaves the last, and least favorable, option, a removable partial denture. They may also trap food and be difficult to wear. They can move in the mouth, stressing — and possibly loosening — the remaining teeth that hold them in place. With all its drawbacks, though, if a partial denture is the only solution to missing back teeth, it's a better alternative than doing nothing and risking long-term problems.
If you would like more information on replacement options for back teeth, please contact us or schedule an appointment for a consultation. You can also learn more about this topic by reading the Dear Doctor magazine article "Replacing Back Teeth."
By Dyer Family Dentistry
November 27, 2012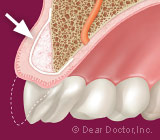 Dentists often recommend bone grafting to ensure the success of dental implants. And it is likewise common for people to squirm a bit at the thought. Bone graft? That sounds serious. And maybe a bit, well, unappealing. These feelings are completely understandable. After all, this may be something you've never had to consider before. But there's no reason to worry. Here's why:
Bone grafting is not new or experimental. It is actually a very routine part of the implant process, as well as other types of oral and periodontal surgery. And it is very successful when performed by an experienced doctor.
Bone grafting materials are processed for safety. The grafts used — whether synthetic or from a natural source, such as cow or human bone — have been specially treated for medical use.
Only a small amount of this bone-grafting material is needed. Once placed in the site of the missing tooth, it serves as a helpful scaffold your body uses to build more of its own bone in that spot.
Your implant will be more ideally positioned and may work better. It needs a good, strong foundation with which to fuse. But when teeth are lost, this supporting bone is often lost, too. This loss is often unpredictable and bone grafting limits the change that occurs. In fact that's one of the main benefits of replacing missing teeth with implants: they help prevent bone loss just as a natural tooth does.
Your implant will look so much better! Think about it: Your original tooth was supported to a certain height by the underlying bone. If that bone is now gone, the replacement tooth is going to be much longer because of the missing bone height. It may not look quite right without that additional support.
So if you want the best-looking and best-functioning implant possible, have no fear of bone grafting. And please contact us to discuss any of your concerns, or schedule an appointment for an implant consultation.
You can read more about this topic in the Dear Doctor magazine article "Can Dentists Rebuild Bone?"