Posts for tag: snoring and sleep apnea
By Dyer Family Dentistry
September 18, 2012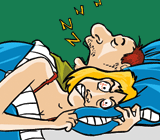 If you suffer from snoring or think you may have Obstructive Sleep Apnea (OSA), did you know that your dentist could play an important role in treating your condition? For most people this is surprising; however, we can provide both education and some treatment options. And as needed, we will work with your other healthcare professionals to get an accurate diagnosis so that you can improve both your sleep and your health.
Oral Appliance Therapy: These devices may look like orthodontic retainers or sports mouthguards, but they are designed to maintain an open, unobstructed, upper airway (tissues at the back of your throat) during sleep. There are many different oral appliances available but less than 20 have been approved through the FDA (Food and Drug Administration) for treating sleep apnea. Depending on your specific condition, we may use it alone or in combination with other means of treating your OSA. Here's how they work. They reposition the lower jaw, tongue, soft palate and uvula (the tissue in the back of the throat that dangles like a punching bag); stabilize the lower jaw and tongue; and increase the muscle tone of the tongue — unblocking the airway.
Continuous Positive Airway Pressure (CPAP): CPAP bedside machines generate pressurized air delivered through a tube connected to a mask covering the nose and sometimes mouth. Pressurized air opens the airway (windpipe) in the same manner as blowing into a balloon; when air is blown in, the balloon opens and gets wider. This treatment option is generally not used for snoring, but rather for the more serious condition, OSA.
Surgery: Specially trained oral and maxillofacial surgeons may include more complex jaw advancement surgeries. Additionally, an Ear, Nose & Throat (ENT) specialist (otolaryngologist) may consider surgery to remove excess tissues in the throat. It also may be necessary to remove the tonsils and adenoids (especially in children), the uvula, or even parts of the soft palate.
The first step towards getting a great night's sleep if you are a snorer that has never been diagnosed or treated for your condition is to obtain a thorough examination by a physician specifically trained in diagnosing and treating sleep disorders. And depending on the seriousness of your condition, he or she may strongly encourage you to participate in a sleep study. The results from this "study" can provide your dentist and other healthcare professionals with precise data about your snoring, breathing and sleeping habits. This information is key to treating OSA, if you are in fact diagnosed with this condition. Learn more when you read, "Snoring & Sleep Apnea." Or if you are ready for a thorough examination and to discuss your snoring, contact us today to schedule an appointment.
By Dyer Family Dentistry
January 23, 2012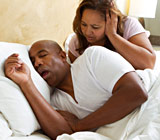 Sleeping disorders impact people in different ways. For some people, they may feel they do not have a problem — except for the fact that their sleeping partner complains about their snoring. For others, they may know they have a snoring issue because they constantly wake themselves up gasping for air. This is a dangerous condition known as Obstructive Sleep Apnea OSA ("a" – without; "pnea" – breath). If any of these scenarios sound like your experience, then you may have OSA or another type of Sleep Related Breathing Disorder (SRBD). However, before jumping to conclusions, you need to obtain a thorough examination from a primary-care physician who is trained in sleep medicine in conjunction with our office. We have received training in the diagnosis and treatment of sleep disorders. But the good news is that sleep apnea is a treatable condition.
As for your question, yes, there are many things we can do to treat your snoring after the cause of your problem is properly established. One helpful approach is through the use of a specially designed oral appliance that we custom make and fit to your mouth. It is easy to use during sleep. Once in place, it will keep your lower jaw in a forward position so that your tongue is held forward to stop blocking your upper airway (i.e. the back of your throat and area causing your snoring and hindering your breathing while you sleep). Another option is to use a Continuous Positive Airway Pressure (CPAP) machine. This specialized machine requires you to sleep with a mask that covers your mouth and/or nose. While you sleep, it delivers continuous pressure to your windpipe so that your tongue is forced away from your airway.
If your snoring is keeping you or your loved ones awake, we are a good place to start. Contact us today to discuss your questions about snoring or to schedule an appointment. You can also learn more about snoring and sleep disorders when you continue reading the Dear Doctor magazine article "Sleep Disorders & Dentistry."
By Dyer Family Dentistry
March 28, 2011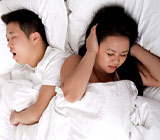 Snoring and Obstructive Sleep Apnea (OSA) is a condition that occurs when the upper airway (back of your throat) collapses or is blocked, causing significant airflow disruption. A person with OSA continues snoring at a regular rate but is interrupted by long silent periods during which there is no breathing for atleast 10 seconds or more. Believe it or not, this issue affects millions of people worldwide. It can leave you feeling tired, depressed, irritable, as well as cause memory loss and poor concentration. And if you have OSA that is left undiagnosed and untreated you could fall victim to heart attacks, strokes, irregular heartbeat, high blood pressure, heart disease and even impotence. For these reasons, we feel it is important that you understand the real-world consequences that can occur if you ignore your OSA.
Reality is that most people are unaware that their dentist can be an excellent resource in helping to diagnose and treat OSA. However the first and most important step is to receive a proper, thorough examination and diagnosis with an appropriately trained physician and dentist. If after completing this process you are diagnosed with OSA, we will discuss treatment options. Some of these may include:
Suggesting that you exercise and lose weight if you are overweight.
Sleeping with a Continuous Positive Airway Pressure (CPAP) machine that provides pressurized air into your airways through a mask that covers both your nose and mouth while sleeping.
Sleeping with a professionally made oral appliance or mouthguard that can reposition your lower jaw, tongue, soft palate and uvula (the dangling tissue in the top, back portion of your mouth) into a better position during sleep to relieve blockage.
If you are ready to discuss you questions and concerns about your snoring, or the snoring habits of another family member, contact us today to schedule a consultation. You can also learn more about the signs, symptoms, and treatment options when you read "Snoring & Sleep Apnea."