Posts for tag: invisalign
By Dyer Family Dentistry
October 25, 2016
Invisalign makes it easier than ever to get the smile you want without the mouth full of metal.
You feel self-conscious about your crooked or gapping smile but you feel like you've gotten too old to wear braces. After all, what would
your colleagues think if you came in sporting a mouth full of wires and brackets? More importantly, how would you feel around your peers and coworkers wearing braces? That's why our Elizabethtown, KY dentist, Dr. Marc Dyer, is making it easier for late teens and adults to get the straighter smile they've always dreamed of without having to worry about infamous metal mouth.
When you choose to get Invisalign in Elizabethtown you will enjoy so many benefits that traditional braces just can't offer. Not only are these clear, nearly invisible aligners flexible and more comfortable to wear than regular braces, but they are also removable. That's right! Your Invisalign trays are completely removable.
Have an important meeting with one of your biggest clients? Have a big presentation for a college class? That's no problem—just take your aligners out and put them in their protective case to keep them safe. You also need to take off your aligners whenever you eat or drink. With traditional braces you'll have a laundry list of foods that you can't eat, so you don't damage your braces; however, this isn't the case with Invisalign. Just remove your aligners and you'll be able to enjoy all of your favorite foods throughout your treatment process.
Not keen on the idea of trying to brush and floss between precarious wires and brackets? We completely understand! And with Invisalign you won't have to. Now you can remove your aligners prior to brushing or flossing your teeth. Nothing about your oral care routine has to change. Just remember to keep your aligners clean, as well, if you want them to remain stain-free and invisible.
While it may sound like you can take your aligners off whenever you want, there is one word of warning: You should still be wearing your Invisalign trays about 22 hours out of the day. Yes, there are special circumstances that may warrant taking them off, just make sure that they immediately go right back on. The longer you leave your aligners off the longer your treatment may take.
If you want to find out if you're a good candidate for Invisalign, it's time to call Dyer Family Dentistry in Elizabethtown, KY to schedule your consultation. Discover what Invisalign could do for you.
By Dyer Family Dentistry
January 14, 2014
Unlike traditional wire and bracket braces that are bulky and uncomfortable,
Invisalign
straightens your teeth using a series of clear, customized, removable appliances called aligners. It's virtually invisible, which means hardly anyone will know that you're straightening your teeth. Take the next step to an attractive smile with Invisalign clear aligners. Choosing to straighten your teeth as an adult is a big decision, as it will affect not only your appearance, but your lifestyle as well. With Invisalign in Elizabethtown, you can alter your teeth without altering your life.
Enjoy the Benefits of Invisalign Treatment in Elizabethtown
Invisalign features a host of benefits. For one, Invisalign is virtually undetectable. That means you can go through treatment without anyone even noticing. Invisalign is also removable. You can conveniently take out your trays to brush your teeth, floss, eat dinner or even for a special occasion. As long as you are wearing the aligners for the required amount of time each day, you are free to remove the trays as you need to. And since you can remove your aligners, you can eat what you want without having to worry about breaking a wire or bracket.
Another benefit of Invisalign is its comfort. While abrasive wire braces can irritate your cheeks and mouth, thin Invisalign trays are smooth and gentle on the oral tissues. With Invisalign, there's decreased risk of lost braces, broken wires, cuts and abrasions that can happen inside the mouth.
Enjoy Straighter Teeth and Improved Oral Hygiene
A more attractive smile is a great motivator for undergoing treatment, but beyond the cosmetic advantages, there are also many important, long-lasting health benefits of straight teeth. A straight smile improves dental function, helping you chew, bite and speak more effectively. With proper alignment, balanced forces on your teeth can reduce the incidence of damaging dental habits such as grinding or clenching.
In addition, crooked, crowded teeth are also difficult to floss and brush. As a result, plaque can easily accumulate between teeth and along the gum line, leading to a higher risk of cavities and periodontal disease. Since straight teeth are easier to clean, the gum tissue will have less plaque and debris that cause inflammation, decay and gum disease.
Ready to take the next step in looking and feeling your very best? Talk to Dr. Marc Dyer, our dentist serving Radcliff and Elizabethtown, for more information on Invisalign, and to see if it is an appropriate solution for straightening your smile.
By Dyer Family Dentistry
October 29, 2013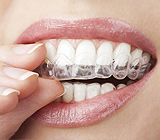 It used to be that the only option for straightening a teenager's teeth involved lots of shiny hardware. Besides the esthetic downside, traditional orthodontic devices (braces) can interfere with the enjoyment of certain favorite foods, irritate the inside of the mouth, trap food particles (potentially another esthetic embarrassment and sustenance for cavity-causing bacteria), and complicate dental hygiene routines.
These aren't causes for concern with clear orthodontic aligners, however, which consist of a series of transparent plastic, removable trays that fit over the teeth and gradually move them into better positioning. About every two weeks, the teen proceeds to the next aligner in the progression (or set of aligners if treatment involves both the upper and lower teeth) until the improved alignment goal is reached. The trays are meant to be worn 22 hours a day, but they can be removed for eating, brushing and flossing, and, on a limited basis, special occasions.
Thanks to relatively recent developments in the design of clear aligner systems, teens who previously were not considered good candidates for this modality may now have this option available to them. This includes:
Teens whose second molars (the last to come in except for wisdom teeth) haven't fully emerged. Aligners now come with "eruption tabs" that serve as place-holders for teeth that are still growing into position.
Teens with severely rotated teeth requiring complicated movement. Tooth-colored attachments called "buttons" can be temporarily bonded onto teeth to provide additional leverage, and elastics (rubber bands) can also be used to promote movement.
Compliance is always a concern with any orthodontic treatment — whether it be gum chewing with traditional braces or wearing clear aligners for the requisite period of time each day. Aligners now come with built-in colored "compliance indicators" that fade with use over time. This makes it possible for orthodontists, dentists, parents and teens alike to monitor both compliance and treatment progress.
If you would like more information about clear orthodontic aligners please contact us or schedule an appointment for a consultation. You can also learn more about this topic by reading the Dear Doctor magazine article "Clear Aligners for Teens."