Posts for tag: crown
By Dyer Family Dentistry
November 04, 2018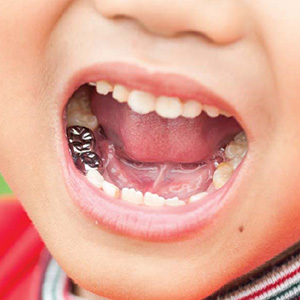 Although primary ("baby") teeth have a lifespan of only a few years, they're still important to a child's current and future dental health. In the present, they help a child eat, speak and smile properly. They also help create a healthy future as placeholders for developing permanent teeth yet to come in.
If, however, a child loses a primary tooth prematurely due to decay, the corresponding permanent tooth could come in misaligned. That's why we do what we can to help a decayed primary tooth reach its full lifespan. And there are different ways to do this depending on the type of tooth.
With front teeth, which don't encounter the same chewing forces as those in the back, we may use a tooth-colored filling. This approach is also preferable for appearance's sake since front teeth are highly visible when a child speaks or smiles.
Primary molars, on the other hand, need a more robust solution. A filling may not be able to withstand the level of long-term chewing forces that these back teeth normally encounter. And because they're less visible than front teeth, there's less concern about aesthetics.
That's why many pediatric dentists prefer stainless steel crowns for molars. Just like their permanent teeth counterparts, a primary crown fits over and completely covers a tooth. They're typically pre-formed, coming in different shapes and sizes that can then be customized for the tooth in question. After preparing and removing any decayed material from the tooth, we can usually install the crown in one visit with local anesthesia and a sedative (if the child needs it for anxiety).
While a steel crown isn't the most attractive restoration, it typically handles the higher chewing forces in the back of the mouth better and longer than a filling. That's especially critical for primary molars, which are some of the last teeth to fall out (as late as ages 10-12).  And besides preserving it as a permanent tooth placeholder, a crown also helps the tooth function effectively in the present.
Regardless of what method we use, though, preserving primary teeth is a primary goal of pediatric dentistry. And with a stainless steel crown, we can keep those important back molars functioning for as long as they're intended.
If you would like more information on caring for primary teeth, please contact us or schedule an appointment for a consultation. You can also learn more about this topic by reading the Dear Doctor magazine article "Stainless Steel Crowns for Kids."
By Dyer Family Dentistry
November 26, 2013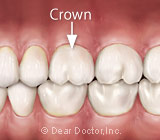 You've taken good care of your teeth all your life, with brushing, flossing and regular visits to the dentist. But chances are that someday (or maybe even now) you may be told that you need a restoration on one or more of your teeth. Oftentimes, that means a crown.
But what exactly is a crown, and why is it used? We're glad you asked!
In the course of time, natural teeth may need to be restored for a variety of reasons. As we age, our teeth may eventually become chipped or discolored. They can become weak and prone to cracking, or actually break due to tooth decay or trauma. Treating tooth decay may require a filling so large that there isn't much tooth surface left. Or, getting a dental implant (which replaces the roots of the tooth) means that you will need a replacement for the visible part of the tooth as well.
A crown (sometimes called a cap) is a common type of dental restoration. It's a way of replacing the tooth structure, in part or in full. A crown can cover the whole visible portion of the tooth, right down to the gum line. Since it's custom-made just for you, it is designed to fit in and function just like the rest of your teeth. And because it's composed of an extremely hard substance (gold, porcelain, ceramic, or some combination of these materials) it's made to last for a long time.
If a dental examination shows that you need a crown, here's how the process works: First, any decay is removed from the affected tooth, and it is prepared for restoration. Then, a 3-D replica of the tooth (and adjacent teeth) is made. This model is used to create a crown that matches your natural teeth. If you're getting a tooth-colored crown, the exact shade of the adjacent teeth will be duplicated as closely as possible.
After the crown has been fabricated, the tooth is made ready to receive the restoration. The crown is adjusted to mesh perfectly with the prepared tooth, and to function with the whole bite. Then, it is cemented or bonded into place. When it's all done, it can be hard to tell that you had any dental work done at all.
If you're thinking that it's a challenge to make an "artificial" tooth fit in with your natural teeth, you're right — but we do it all the time! Creating a superb-looking restoration is a blend of science and art. It takes a careful eye to match tooth colors and to adjust biting surfaces and spacing for a perfect fit. But when experienced dental professionals and patients work together, the results can make us both proud of the achievement.
If you would like more information about crowns, please contact us or schedule an appointment for a consultation. You can also learn more about this topic by reading the Dear Doctor magazine articles "Porcelain Crowns & Veneers" and "Gold or Porcelain Crowns."