Posts for: July, 2014
By Dyer Family Dentistry
July 23, 2014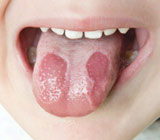 If you occasionally notice mildly irritating red patches on the top surface of your tongue, you may be one of the three percent or less of the population with a condition called benign migratory glossitis. It's also known as "geographic tongue" because the red patches often resemble land masses on a world map.
While the symptoms may be discomforting, geographic tongue isn't a cause for serious concern. The red patches are caused by the temporary loss of papillae, tiny bumps that grow on the surface of the tongue, which may appear and disappear repeatedly over a short time period (ranging from hours to days). As its medical name implies, this form of glossitis isn't cancerous or contagious; it's referred to as "migratory" because the red patches often appear to move around while changing size and shape. An outbreak can cause a mild burning or stinging sensation, and some people also encounter numbness in the patchy areas.
While there isn't a firm consensus as to geographic tongue's exact cause, there do appear to be triggers for it including stress, hormonal changes and mineral or vitamin deficiencies (particularly zinc and Vitamin B). There also seems to be a connection with psoriasis, a skin ailment characterized by redness and scaling — a number of people will experience both conditions. Geographic tongue appears more often in middle-aged, non-smoking adults, particularly women during hormonal fluctuations (as during pregnancy or ovulation). Individuals with deep grooves on their tongues called fissures are more susceptible as well.
There's no cure for the condition, but there are some treatments that can help alleviate any accompanying irritation. Depending on what we find during examination, we may prescribe anesthetic mouthrinses, antihistamines, steroid ointments or other treatments to help manage discomfort. It may also be helpful to limit your intake of foods during outbreaks that may increase irritation, including high acidic foods like tomatoes or citrus fruit, as well as eggplant, mint, spicy foods and alcohol (including certain mouthwashes).
If you experience these occasional patchy outbreaks on your tongue, please schedule a visit with us for a full examination. We may be able to reduce your discomfort and certainly put your mind at ease.
If you would like more information on geographic tongue, please contact us or schedule an appointment for a consultation. You can also learn more about this topic by reading the Dear Doctor magazine article "Geographic Tongue."
By Dyer Family Dentistry
July 15, 2014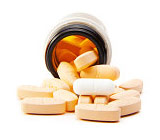 Does the word "vitamin" make you think of a capsule that comes from a bottle… one that you're supposed to take every day to improve your health? If so, it shows the effectiveness of the marketing strategy used by the vitamin and dietary supplement industry — a business that's valued at $25 billion annually. The other definition, of course, is a substance that your body requires (in small amounts) to control normal metabolic functions and sustain life. It's often assumed that taking vitamins in pill form can help you be healthier. But is that assertion really backed up by evidence?
It's true that if your body is severely lacking in any of the 13 vitamins, you could be at risk for developing a disease related to vitamin deficiency: scurvy or pellagra, for example. Moreover, several vitamins (notably vitamins C and E, and beta carotene, a precursor to vitamin A) are also antioxidants; these are molecules that can protect our cells (and our genetic material) from damage caused by toxins in the environment and metabolic processes within our bodies.
Fruits and vegetables are rich in vitamins A and C, and vitamin E is found in vegetable oils. That's one of the reasons why nutritionists and health-care providers stress the importance of a well-balanced diet, including plenty of plant-based foods. Many studies have shown that people who eat lots of vegetables and fruits have lower incidences of heart disease, cancer, and other chronic health problems.
You can also buy substances marketed as antioxidants and nutritional supplements in pill form. But contrary to what you might expect, in that form they don't seem to have the same protective effect on the body. Scientists still aren't sure why this is so, but it may have to do with the presence of many other biologically active compounds in vegetables and fruits. In fact, there is solid evidence that taking too many vitamins or supplements can be dangerous to your health.
We're certainly not saying it's of no use to take vitamins or nutritional supplements — especially if a deficiency is known to exist. If an individual isn't getting enough vitamin D because they avoid exposure to sunlight, for example, then it makes sense to take a supplemental dose. But we need to remember that a supplement in pill form isn't a substitute for a balanced diet — and taking unneeded supplements, or excessive doses, can lead to problems. Like it or not, there are few shortcuts on the road to good health. For more information about vitamins and supplements, see the Dear Doctor magazine article "Vitamins & Dietary Supplements: What Every Consumer Should Know."