Posts for: June, 2013
By Dyer Family Dentistry
June 26, 2013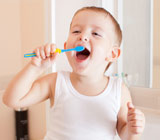 Caring for a young child can be overwhelming at times. Sometimes, it may feel like you can't read enough books to learn the correct way to do everything from potty training to feeding. It's also important to teach your child healthcare habits during these crucial years, so that they continue these habits for a lifetime!
Here are a few simple ways you can help your child to institute lifetime oral care habits.
DO: Encourage your Child to Brush Every Day with Fluoride Toothpaste. Fluoride will help make your child's teeth more resistant to tooth decay. You should use a thin smear of fluoride toothpaste for children under age two and a pea-sized amount for older children. At age two, you can also begin empowering your child to brush, but make sure that you supervise and finish the job. Your child will probably need your help until around the age of six.
DON'T: Share your Germs. Did you know that children are not born with the bacteria that cause tooth decay? In fact, the bacteria are transmitted to them from adults! You should never share a cup or spoon with your child. Also, next time you kiss your child, kiss him or her on the cheeks instead of the lips. Believe it or not, you can transmit harmful bacteria through this quick little kiss.
DO: Limit your Child's Sugar Intake. When your child consumes sugar, the bacteria use the sugar to produce acids that dissolve tooth enamel, eventually leading to tooth decay. Saliva can neutralize those acids, but it needs enough time, 30 to 60 minutes, to work its magic. That is why it is important to limit sugar intake between meals.
DON'T: Give Your Child a Bottle at Night. Juice, milk and even breast milk contain sugars that promote tooth decay, in particular during sleep, when less saliva is being produced. So, though it may be tempting, do not let your child go to bed with a bottle.
DO: Take your Child to the Dentist Early. The American Academy of Pediatric Dentistry recommends that all children have their first dental visit by the age of one. Your toddler will benefit from regular dental visits, because we will monitor tooth decay, correct brushing techniques and also, most importantly, ensure that he or she is comfortable in the dental chair.
DON'T: Allow your Child to Suck His or Her Thumb Past Age Three. Thumb sucking for comfort is a very normal behavior for babies and toddlers. However, if your child constantly sucks his or her thumb past the age of three, it can affect teeth alignment and jaw development.
If you would like more information about oral care for your child, please contact us or schedule an appointment for a consultation. You can also learn more by reading the Dear Doctor magazine article "Dentistry and Oral Health for Children."
By Dyer Family Dentistry
June 13, 2013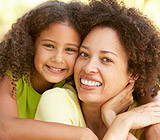 It is sometimes hard to believe all of the features and characteristics that we inherit from our parents. Whether you're tall, short, blue-eyed or blonde, you can usually attribute some of these features to your mother and father. Of course, the downside of genetics is that diseases and disorders are also linked to genes.
Well, you can add gum tissue to that list as well! Genetics actually determines whether you have what we call "thin" or "thick" gum tissue. How does this work? Well, the type of gum tissue you have relies heavily on the shape of your tooth, which indeed is genetically-coded. If you have a triangular tooth shape, you'll likely have thin gums. If you have a squarer tooth shape, you'll usually have thick gums.
So, what can you expect from each tissue type?
If you have a thin gum tissue type, you are more likely to have gum recession. Watch out for the following signs of gum recession:
Sensitivity to hot or cold, even without the presence of dental decay
If you have crowns on your teeth, you may see a dark gray line at the gum line from the metal casting beneath the crown
Small dark triangular spaces between teeth
On the other hand, if you have a thicker tissue type, your gums are more vulnerable to dental disease through a condition called "pocketing." This happens when bacterial plaque causes your tissue to become inflamed, lose its attachment to the teeth and develop a pocket. Pocketing can result in bone loss, and, in worst-case scenarios, tooth loss.
It's important to note that while we use these terms to categorize different tissue types for treatment decisions, your tissue may also fall somewhere in between the two varieties.
So, how can you prevent gum disease? Daily oral hygiene is the best way to ensure proper care of your gums, no matter what type you have. Be sure to brush twice daily (use a soft toothbrush) and floss regularly at night. Floss gently until you hear a squeak, but watch out for your gum line. And of course, continue to visit us two times a year, so that we can assess whether you are in danger of developing gum disease.
If you would like more information about genetics and gum disease, please contact us or schedule an appointment for a consultation. You can also learn more by reading the Dear Doctor magazine article "Genetics and Gum Tissue Types."