Posts for: May, 2013
By Dyer Family Dentistry
May 30, 2013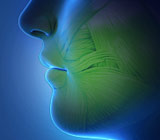 While oral cancer makes up only a small portion of annual cancer cases, they are nonetheless a critical situation for those patients who develop them. Because cancer lesions in the mouth are easily mistaken for other kinds of sores or overlooked as they develop, they're often not detected until the later stages of the disease. The lack of early detection is a major factor in a dismal overall survival rate for oral cancer of 58%, five years after treatment. On the other hand, oral cancer diagnosed in earlier stages of development boast a much improved survival rate — up to 80% after five years.
The most important factor for early detection is your own observations while performing oral hygiene. A lesion can occur anywhere in the oral cavity (the mouth) or the pharynx (back of the mouth and throat). Of particular concern are abnormalities that appear on the lips and on or around the tongue. These abnormalities may first look like cold or canker sores, ulcers or white patches. If they don't begin to diminish in a few days, then you should certainly contact our office for an oral cancer exam (this exam is also part of your routine office visit).
While there are a number of diagnostic screening tests, the best method for achieving an accurate diagnosis is a biopsy. We would remove a small sample of the abnormal tissue (if the area is large enough to begin with) and have it analyzed microscopically. If the abnormality is small, the complete abnormality would be removed so that if it was determined to be benign or in a pre-cancerous stage, we would have already treated your condition by removing the abnormal tissue. If, however, the sample returns positive for cancer and we were unable to remove it totally during the biopsy, then a course of treatment must be developed utilizing other specialists in dental and medical oncology.
You should also be aware that there are actions you can take to reduce your risk of developing oral cancer in the first place: protect yourself from too much sun exposure; moderate your intake of alcoholic beverages; refrain from any tobacco use (smoking and smokeless) or risky sexual activity; and eat a plant-based, whole food diet. These actions coupled with vigilance for early detection can make a difference in your oral health — it may even save your life.
If you would like more information on oral cancer, please contact us or schedule an appointment for a consultation. You can also learn more about this topic by reading the Dear Doctor magazine article "Oral Cancer."
By Dyer Family Dentistry
May 15, 2013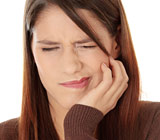 An icy cold beverage on a hot day or a steaming cup of cocoa on a frigid day are some of the simple pleasures in life. So why do they sometimes seem to turn against you and send sharp, sudden pain shooting through your teeth?
When pain affects your teeth, it's because the nerves within the very center portion, the "pulp," are reacting to a stimulus such as temperature, pressure changes, or acidic or sugary substances. In healthy teeth, the pulp is protected from stimuli. Above the gum line, a layer of enamel encases and protects the visible portion of tooth (crown). Below, the gums (gingiva) and a thin layer of "cementum" protect the root portion. Neither of these contains nerves. However, directly under the enamel and cementum, surrounding the interior pulp, is the "dentin." This layer contains nerve fibers that can relay sensations to the nerves in the pulp, which respond as they are designed to — with an unpleasant feeling that tells you something's wrong.
That feeling can range from a momentary pang, to prolonged dull throbbing, to downright excruciating distress. The nature of the pain depends on the type and degree of stimulus. The only way to be certain of what's causing the pain is with a professional dental examination. However, your symptoms can hint at some possible sources.
Fleeting sensitivity triggered by hot and cold foods generally does not indicate a serious problem. It may be due to any of the following:
a small area of decay in a tooth,
a loose filling,
an exposed root surface resulting from gum recession (often due to improper or excessive brushing), or
temporary pulp tissue irritation from recent dental work.
To help alleviate root sensitivity, make sure the tooth is free of dental bacterial plaque by brushing gently no more than twice a day. Fluoride-containing toothpaste made for sensitive teeth might help. Fluoride and additives such as potassium nitrate or strontium chloride help relieve sensitivity. Try using the toothpaste like a balm, gently rubbing it into the tooth surface for about 10 minutes. If the sensitivity is related to recent dental work, it should resolve within a few days to a week or two, depending on the extent of the work you had done. A mild over-the-counter pain reliever may help in the meantime.
No matter what the reason, if the sensitivity persists or worsens, please come see us. Together we'll get to the root of the underlying problem and resolve it so you can get back to enjoying the foods and beverages you love, no matter what the temperature!
If you would like more information about tooth sensitivity and ways to prevent or treat it, please contact us or schedule an appointment for a consultation. You can also learn more about this topic by reading the Dear Doctor magazine articles "Sensitive Teeth" and "Tooth Pain? Don't Wait!"