Posts for: February, 2011
By Dyer Family Dentistry
February 27, 2011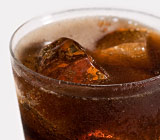 Your teeth were designed to last you a lifetime, so you should do everything you can to protect them. This includes guarding them against dental erosion. However, many people may not know for sure what dental erosion is, much less how or why they need to guard against it.
Dental or tooth erosion is the irreversible loss of tooth enamel from chemical attack by acids. Eating or sucking acidic foods such as lemons is a good example. But most people are shocked to discover that it can also be caused by their favorite sodas (carbonated beverages), natural fruit juices, energy and sports drinks — especially with excessive consumption. It takes the saliva, nature's protection, at least 30 to 60 minutes to neutralize the effects of acid, so only one acidic drink an hour causes your teeth to be continually bathed in acid. And this is an important fact to know, because if your mouth is acidic all the time, this will promote tooth decay.
Will brushing help out with prevention?
When it comes to dental erosion, brushing immediately after acid consumption can actually make it worse by accelerating the erosion process. This is because the acids in these drinks (and some foods) actually dissolves tooth enamel and softens the tooth surface. These newly softened surfaces can literally be brushed away if you brush before your saliva has a chance to try to reverse the process. If done often, you could even brush away your enamel! For this reason, you should wait at least 30 to 60 minutes before you brush your teeth after consuming any of these products.
So what can you do to prevent dental erosion?
One important step that you (and your family) can do to help prevent dental erosion is to limit the amount of these beverages you drink. Instead, try drinking calcium-rich milk or water and saving your favorite acidic beverage for a special treat that you consume preferably with a meal. Try reducing the number of these drinks you consume over a period of time. If you must drink an acidic beverage avoid swishing it in the mouth and use a straw to reduce the contact between the acid and your teeth.
Just remember that once your dental enamel has eroded, it is gone forever. So you should follow these simple tips now to protect your smile and future.
By Dyer Family Dentistry
February 20, 2011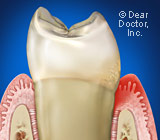 Periodontal or gum disease is an often silent disease that can cause significant damage to the health of your teeth and body. The reason it is so often classified as a silent disease is because it is chronic or longstanding and often without any symptoms or pain that most people associate with a disease until it may be too late.
If you think you may have gum disease, here is what to look for:
Bleeding gums — probably one of the most common and overlooked early warning signs that most people ignore is thinking that the bleeding is being caused by brushing their teeth too hard. The truth is that you would have to brush extremely hard to cause healthy gum tissues to bleed.
Bad breath — something everyone has experienced; however, it can also be a warning sign of periodontal disease. This is especially true for people who hate or refuse to floss their teeth, thereby trapping literally billions of bacteria where they love to collect in the protected areas between the teeth.
Redness, swelling, and/or receding gums — all signs of gum disease often accompanied by sensitivity of the gum tissues around the teeth.
Chronic inflammation — long-standing gum inflammation is a sign that your gum tissues are not healing properly. Periodontal disease exhibits periods with bursts of activity followed by periods where the body tries to recover.
Loose and/or moving teeth — that seem to be drifting into a new position, are visible signs that you are highly likely to have periodontal disease.
Abscess formation — late stage gum disease is characterized by painful, swollen, red pockets of pus, which denotes an acute localized periodontal infection.
If you have any of these signs, you need to make an appointment for a thorough evaluation. Otherwise, you could end up losing your teeth to the second most common disease known to man after tooth decay. To learn more about gum disease, continue reading, "Warning Signs of Periodontal (Gum) Disease." Or, contact us today to schedule an appointment.